Crescent Arts Centre, Belfast
Citation
The UK MAB Urban Wildlife Award for Excellence is awarded to The Crescent Arts Centre, Braecom (Project Sponsors), Hamilton Architects (Lead Consultants) and Gilbert-Ash NI Limited (Contractors) in recognition of their innovative partnership approach to ensuring the protection, conservation and enhancement of a Swift Apus apus breeding colony in the roof of a 136 year old listed building during a complex 2 year long refurbishment.
Description
The main focus of the Crescent Arts Centre board and staff, the Project Sponsors, the Architects and Lead Consultants and the Contractors was to overcome the major challenges of a 2 year £8.7 million refurbishment and a new build extension of the 138 year old listed building.
Account had to be taken of the condition of the building as a whole and the desire to retain as much of the original fabric and character as possible. The facade was to be retained and new build had to integrate with the modern construction.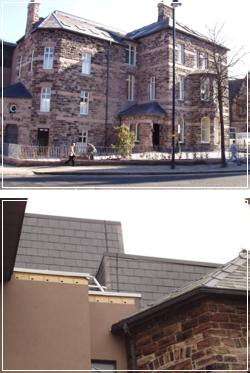 If this wasn't enough of a major challenge the fact that the building housed what is thought to be Northern Ireland's largest Swift Apus apus breeding colony (30 – 50 pairs) established over a 108 year period was a further challenge. How was the 108 year old colony to be protected as building progressed? The architects, the contractors, the project manager and local experts on the species got together and worked out a plan.
As well as protection and conservation of the existing colony and the available nest sites the provision of built in swift bricks in the new build made a statement that the birds were now seen as part and parcel of the building from this point on.
A scheme to sponsor swift bricks was introduced and the Crescent Arts Centre and partners set out to raise awareness of the colony and its conservation. There is now much more awareness of the colony and knowledge of the species among the arts centre staff and the wider public. This was further increased by the provision of a permanent high quality information panel which is now an integral part of the overall interpretation of the heritage of the building and the ethos of the organisation.
The story is thus one of strong efforts and commitment to protect conserve and enhance a part of Northern Ireland's natural heritage. The project is and will continue to be into the future an excellent example to other sites with similar issues throughout Northern Ireland and further afield of how to tackle problems of conserving biodiversity during redevelopment.
Contact
Dr Keith Acheson, Centre Manager,
2-4 University Road,
Belfast, BT7 1NH.
Email info@crescentarts.org
Telephone +44 (0) 28 9024 2338
Registered charity with hmrc.gov.uk. VAT no. 517 3737 39.
Peter Cush, Senior Scientific Officer,
Natural Heritage - Biodiversity Unit,
Klondyke Building,
Cromac Avenue,
Gasworks Business Park,
Lower Ormeau Road,
Belfast, BT7 2JA.
Email peter.cush@doeni.gov.uk
Telephone +44 (0) 28 90569591