Severn Gorge Countryside Trust
Citation
The Severn Gorge Countryside Trust was given the UK-MAB Urban wildlife Award for Excellence in 1995 for: demonstrating excellence in the management and enhancement of urban fringe woodlands and associated land of high nature conservation, cultural and landscape value in order to provide tangible benefits to the local community and to visitors to the area.
Description
The Severn Gorge Countryside Trust is responsible for managing local woodlands and associated areas (including meadows) in the Severn Gorge for the long-term benefit of residents and visitors to the area.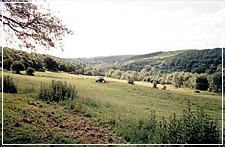 The Severn Gorge Countryside Trust (SGCT) has a long-term leasehold over areas of woodland (mainly ancient woodlands) and associated areas in the Severn Gorge which are in public ownership through Telford & Wrekin Council. The woodlands are within the Ironbridge World Heritage Site and include Sites of Special Scientific Interest and Wildlife Sites. The Trust undertakes management of these urban fringe woodlands in a way that promotes nature conservation and landscape & visual amenity and provides high standards of woodland management and public access. There is an overall Management Plan for the landholding with each discrete area having its own plan. The public is consulted over the management plans and informed about ongoing woodland management operations. Steps, paths and benches are maintained. Woodland sculptures are commissioned and installed. Local contractors are used for woodland management, timber extraction and the generation of woodland products (hurdles, charcoal etc).
Contact
Severn Gorge Countryside Trust,
Wesley Rooms Annexe,
Jockey Bank,
Ironbridge,
Telford,
Shropshire,
TF8 7PD.