News and forthcoming events of interest
Forum news
The Art of Nature Event 4: Planed Las – Blue Planet: the Arts, Water Citizenship and Sustainability
Bringing artists, environmentalists and community together.
12-13 May 2015. Various venues and sites .
(12 February 2015)
The Art of Nature - Beauty and Complexity
Bringing artists, environmentalists and community together to enable full participation
2 day weekend event: 31 May/1 June 2014, 10.00am - 5.00pm, Liverpool.
(29 April 2014)
New Chair of UK MAB Urban Forum announced
At the general meeting of the Forum held in London on October 17th 2012 Dr. Alison Millward was elected to succeed Professor Ian Douglas as Chair of UK MAB Urban Forum. Dr. Millward will be assisted by Vice Chairs Judy Ling Wong and Ambra Burls. Professor Douglas will remain a valued Member and Fellow of the Forum. Nigel Lawson has stood down as Honorary Secretary and will remain a Member of the Forum. Celia Spouncer, Kerry Morrison and David Haley have become Members of the Forum.
(24 October 2012)
An invitation to shape the Natural Environment of England
UK MAB Urban Forum has responded to Defra's invitation to respond to its
discussion document ' An invitation to shape the Natural Environment of
England' in advance of the planned White Paper on the Natural Environment.
(27 October 2010)
Do Street Trees have a Future?
Symposium at University College London, Wednesday May 12th 2010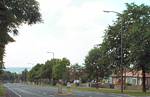 The concern is trees in the urban environment and the purpose of the conference is to change how urban trees are managed. The conference was controversial and will reflect passion rather than just academic debate. The conference considered the case for and against street tress and addressed issues such as health and well-being, economics, aesthetics, wind throw effects on trees, and insurance. The aim is to change policy and practice.
(18 May 2010)
A Handbook of Urban Ecology Editors: Ian Douglas, David Goode, Mike Houck and Rusong Wang
The Handbook, which is due to be published by Routledge in 2010, will be a publication of UK MAB Urban Forum and will include the Forum logo. The aim of the handbook is to provide in depth coverage of the main elements involved in all aspects of practical urban ecology, providing sufficient background of the basic science and the social, political, governance and planning ideas to help practitioners and students with the wealth of interdisciplinary information needed to manage the biota and green landscapes in urban areas: the places where most of the world's people first came into contact with nature. It is global in scope and should be useful throughout the world. Further details can be found on the publishers website.
(02 April 2009).
Events of interest to Forum members
URBIO – Urban Biodiversity and Design Newsletter
URBIO – an international network for education and applied research implement the convention on biological diversity in towns and cities. Their newsletter contains details of the City Biodiversity Summit, outcomes of conferences and several events likely to be of interest to members of the Forum.
(25 January 2011)