News and forthcoming events of interest
George Barker, the founder of UK MAB Urban Forum, sadly passed away on May 1st aged 78
George Barker commissioned the report which opened up the whole field of the benefits of nature and green-spaces in urban areas. David Goode has written a tribute to George on the Nature of Cities website.
(23 May 2018)
Forum Chair Richard Scott recently attended the UN's World Urban Forum (WUF9) in Kuala Lumpur
Richard has been able to commence the process for the UK Urban Ecology Forum to join the UN-Habitat Urban Network.
The
Kuala Lumpur Declaration
includes implementation of the
UN Habitat III New Urban Agenda
.
(21 February 2018)
UK Ecology Forum Chair Richard Scott will be attending The Ninth session of the World Urban Forum (WUF9)
Taking place in Kuala Lumpur, Malaysia in February 2018, which has been recognized by the General Assembly resolution 70/210 as the first session to have a thematic focus on the implementation of the New Urban Agenda adopted at the United Nations Conference on Housing and Sustainable Urban Development, Habitat III.
The New Urban Agenda aims:
raise awareness of sustainable urbanization among stakeholders and constituencies, including the general public;
improve the collective knowledge of sustainable urban development through inclusive open debates, sharing of lessons learned and the exchange of best practices and good policies; and
increase coordination and cooperation between different stakeholders and constituencies for the advancement and implementation of sustainable urbanization.
(14 February 2018)
The Wales Green Infrastructure Forum 2017, Bute Park Education Centre, Cardiff, 4th October
The aim is to inform members about latest developments in green infrastructure, inspire them to use green infrastructure in their work and connect them to people and organisations who can help.
Four speakers will talk about their work in the morning, and the afternoon is spent in small groups, visiting each speaker in turn for a more in-depth conversation about the issues.
This year's speakers are:
Rhian Power-Battrick from the Wales European Funding Office who will look back on how green infrastructure has been delivered with EU funding in Wales;
Tom Bramley from Merthyr Tydfil County Borough Council who will reveal what Merthyr Tydfil County Borough Council learned about people and green space when researching their Open Space Strategy;
Peter Wootton-Beard from Aberystwyth University who will describe how green roofs and green walls affect the urban micro climate;
Nick Grayson of Birmingham City Council and The University of Birmingham who will tell us how the UK's first Biophilic City plans to improve life for people and nature over the next quarter century.
The meeting is free, but there are a limited number of places and priority is given to colleagues working in Wales.
To book a place please contact the meeting's administration manager Rhonwen Williams: rhonwen.williams@cyfoethnaturiolcymru.gov.uk
(31 August 2017)
In September Greenspace Scotland will be publishing results from their 2017 Greenspace use and attitudes survey
The survey was last commissioned in 2011 and this new survey will demonstrate interesting changes over the last 6 years.
Greenspace Scotland will be using data from the Ordnance Survey greenspace maps and the attitude survey to produce the third State of Scotland's Greenspace Report which is also due to be published this autumn.
(22 August 2017)
July 2017 the Ordnance Survey (OS) released an open dataset and free map of Britain's Greenspaces
This new free Greenspace layer in OS Maps is the easiest way to discover greenspaces across Britain.
(21 August 2017)
TUN Habitat has adopted the New Urban Agenda
A new framework that that lays out how cities should be planned and managed to best promote sustainable urbanization.
(19 August 2017)
The Art of Nature Event 4: Planed Las – Blue Planet: the Arts, Water Citizenship and Sustainability
Bringing artists, environmentalists and community together.
12-13 May 2015. Various venues and sites .
(12 February 2015)
The Art of Nature - Beauty and Complexity
Bringing artists, environmentalists and community together to enable full participation
2 day weekend event: 31 May/1 June 2014, 10.00am - 5.00pm, Liverpool.
(29 April 2014)
New Chair of UK MAB Urban Forum announced
At the general meeting of the Forum held in London on October 17th 2012 Dr. Alison Millward was elected to succeed Professor Ian Douglas as Chair of UK MAB Urban Forum. Dr. Millward will be assisted by Vice Chairs Judy Ling Wong and Ambra Burls. Professor Douglas will remain a valued Member and Fellow of the Forum. Nigel Lawson has stood down as Honorary Secretary and will remain a Member of the Forum. Celia Spouncer, Kerry Morrison and David Haley have become Members of the Forum.
(24 October 2012)
An invitation to shape the Natural Environment of England
UK MAB Urban Forum has responded to Defra's invitation to respond to its
discussion document ' An invitation to shape the Natural Environment of
England' in advance of the planned White Paper on the Natural Environment.
(27 October 2010)
Do Street Trees have a Future?
Symposium at University College London, Wednesday May 12th 2010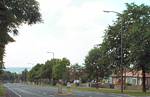 The concern is trees in the urban environment and the purpose of the conference is to change how urban trees are managed. The conference was controversial and will reflect passion rather than just academic debate. The conference considered the case for and against street tress and addressed issues such as health and well-being, economics, aesthetics, wind throw effects on trees, and insurance. The aim is to change policy and practice.
(18 May 2010)
A Handbook of Urban Ecology Editors: Ian Douglas, David Goode, Mike Houck and Rusong Wang
The Handbook, which is due to be published by Routledge in 2010, will be a publication of UK MAB Urban Forum and will include the Forum logo. The aim of the handbook is to provide in depth coverage of the main elements involved in all aspects of practical urban ecology, providing sufficient background of the basic science and the social, political, governance and planning ideas to help practitioners and students with the wealth of interdisciplinary information needed to manage the biota and green landscapes in urban areas: the places where most of the world's people first came into contact with nature. It is global in scope and should be useful throughout the world. Further details can be found on the publishers website.
(02 April 2009).